Auto Insurance for New Drivers: What to Consider ===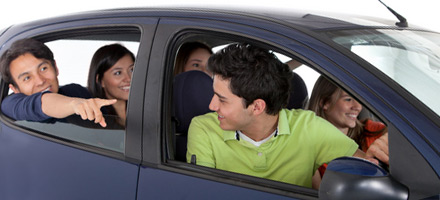 Getting behind the wheel for the first time is an exciting milestone for any new driver. However, along with this newfound freedom comes the responsibility of finding the right auto insurance. Insurance is not only a legal requirement but also provides the necessary protection in case of accidents or unforeseen events. As a new driver, it's important to understand the essentials of auto insurance, consider various factors when making a choice, and follow some tips to secure the best coverage for your needs.
The Essentials of Auto Insurance for New Drivers
State Requirements: Every state has its own auto insurance laws and minimum coverage requirements. It's crucial for new drivers to familiarize themselves with these regulations to ensure compliance and avoid penalties. Typically, liability insurance that covers bodily injury and property damage is mandatory.

Coverage Options: In addition to the minimum requirements, new drivers should consider additional coverage options that can provide greater protection. Collision coverage pays for damage to your vehicle in case of an accident, while comprehensive coverage covers non-collision incidents such as theft or natural disasters.

Deductibles and Premiums: Deductibles are the amount you pay out of pocket before your insurance coverage kicks in. New drivers should carefully evaluate their financial situation and choose deductibles that they can comfortably afford. Additionally, premiums – the amount you pay for insurance – can vary significantly among different providers, so shopping around is essential to find the best rates.

Policy Limits: Understanding policy limits is crucial to avoid being underinsured. Policy limits define the maximum amount an insurer will pay for a claim. As a new driver, it's important to assess your potential risks and choose policy limits that adequately protect you in case of an accident or lawsuit.
Factors to Consider When Choosing Auto Insurance
Financial Stability of Insurer: Before purchasing auto insurance, new drivers should research the financial stability and reputation of the insurance company. Checking their ratings from independent agencies like A.M. Best or Standard & Poor's can help ensure that the insurer will be able to meet their financial obligations.

Discounts and Benefits: Many insurance companies offer discounts specifically for new drivers. These discounts can be based on academic achievement, completion of driver's education courses, or maintaining a good driving record. Exploring these discounts and benefits can help new drivers save on premiums.

Customer Service: As a new driver, it's important to choose an insurance company that provides excellent customer service. This includes easy and reliable claim filing processes, round-the-clock customer support, and a reputation for promptly resolving customer issues. Reading customer reviews and seeking recommendations can help in making an informed decision.

Additional Services: Some insurers offer additional services that can be beneficial to new drivers, such as roadside assistance or accident forgiveness. Considering these extras can provide added value and convenience in case of emergencies or unfortunate incidents.
Tips to Get the Best Auto Insurance for New Drivers
Compare Quotes: Getting quotes from multiple insurance providers is crucial to find the best coverage at an affordable price. Utilize online comparison tools or work with an insurance broker who can gather quotes on your behalf.

Driving Record: Building a clean driving record is not only essential for safety but can also help in securing lower insurance premiums. Following traffic rules, avoiding accidents, and maintaining a good driving history can lead to discounted rates over time.

Defensive Driving Courses: Completing a defensive driving course can not only enhance your driving skills but also make you eligible for insurance discounts. Check with your insurance provider if they offer any discounts for completing such courses.

Bundle Policies: Consider bundling your auto insurance policy with other types of insurance, such as home or renters insurance. Many insurers offer discounts for bundling policies, which can help new drivers save on premiums.
Auto Insurance for New Drivers: What to Consider===
How to save as a new driver MORE LIKE THIS Insurance Auto Insurance New drivers are usually young people getting behind the wheel for the first time But insurance companiesThese new drivers will typically pay higherthanaverage rates for their car insurance policies For example the average cost of car insurance is 1771 per year for a full coverage policy but Best Cheap Car Insurance for New Drivers Erie 50 Compare rates from participating partners via EverQuote39s secure site Average cost to add a 16yearold driver 1594 a year ComplaintFor most people auto insurance premiums start to decline when they turn 25 However you will continue to pay high rates if you have had several accidents or claims in your driving history As a On average new drivers can expect to pay 2743 per year for
insurance However Allstate39s policy costs 56 less at 1205 per year State Farm has the best rates for fullcoverage insurance with an average of 3308 per year or 276 per month That39s about half the average rate for full coverage insurance which is 6527 per yearDoes a New Driver Need Insurance Youll be expected to purchase at least your states minimum required coverage which typically includes bodily injury and property damage liability car1 Nationwide While 1142 is not exactly a cheap premium it39s still among the cheapest available for a 16yearold male Similarly the company is on the lower end for drivers with no insurance history coming in at 661 for a sixmonth policy Nationwide also provides some specific policy features designed to help young or new driversConsider vehicle size
Establish a good credit rating Location for those planning to move out of their current state of residence Antitheft device installation Ask your agent about any additional
As a new driver, selecting the right auto insurance policy requires careful consideration of various factors. By understanding the essentials of auto insurance, evaluating different factors, and following a few tips, new drivers can find the best coverage that fits their needs and budget. Remember, the most important aspect is to prioritize safety on the road and drive responsibly to maintain a clean driving record, ensuring lower insurance premiums in the long run.